Description
Marietta Pine Straw (Long Needle)
Marietta Pine Straw (Long Needle) comes the from leaves of a pine tree. In the fall, the leaves from the pine tree turn into a vibrant brown color then fall from the tree to the ground. Fall to early spring is the best time to purchase the most vibrant color Long Needle Pine Straw. 
The farther away from the fall season the more the sun effects the straw as the color starts to fade over time. This being said, Long Needle Pine Straw purchased early and later in the summer will not be as vibrant in color as Long Needle Pine Straw purchased in the fall. Once the Long Needle Pine Straw falls to the ground it is then raked and baled to you as a decorative ground cover.
Long Needle Pine Straw is great for adding mulching material to flower beds or gardens. Over time the Long Needle Pine Straw will break down into your flower beds and garden helping retain moisture and nitrogen content in your plants and vegetables. Millions of bales sold!
HOW MUCH PINE STRAW DO I NEED?
Use our calculator tool to calculate how much long needle pine straw you will need for your order.
Measure the length and width of each area you want to cover. Input your total length and width from each area together in the calculator, as well as a desired depth, to see how much long needle pine straw you will need to cover all areas of your landscaping project.

Long Needle Pine Straw color varies by season!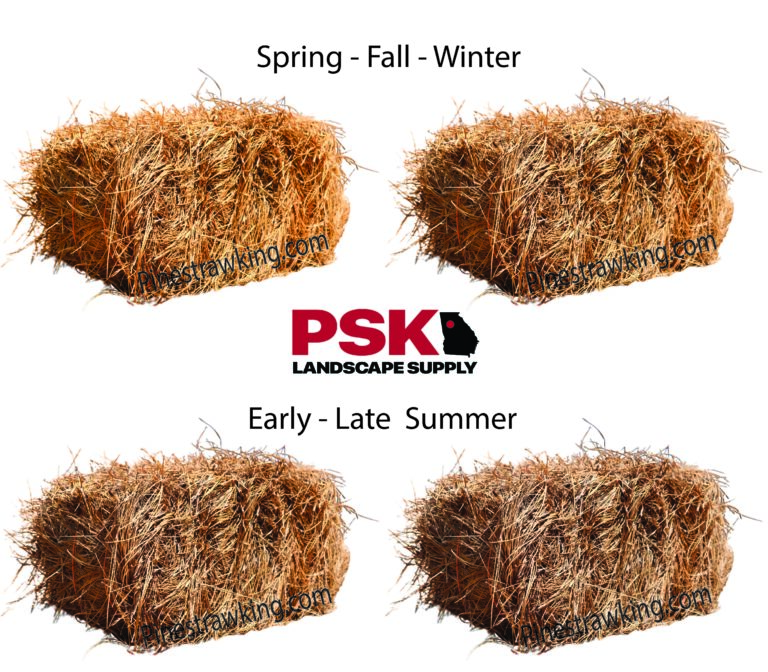 Marietta Pine Straw Installation
We would love to install your long needle pine straw. Simply select delivery + installation above to add it to your cart and  select the day and time at check out. Don't want to order online? Call us set up an installation time today. Don't forget to check your address in the map above to see if we install long needle pine straw in your area. We cover areas including Marietta, East Cobb, West Cobb, Woodstock, Town Lake, Roswell, Alpharetta, and surrounding areas north of Atlanta.